Vancouver is Awesome recently published an article about a coffee shop in Vancouver, BC that's declared itself a safe space for womxn who find themselves in a dangerous situation. It was one of many similar articles published in the local media over the past few days, with fantastic implications for Harken Coffee. The initiative was a perfect example of newsjacking, so I wanted to talk about it and how other small businesses can achieve similar results.
What Harken Coffee did
After recent news of women being stalked by strange men across the city, Harken Coffee posted on Instagram about how they can help, This includes providing a discreet way for women to signal that they're in danger, offering a place where they can wait until it's safe to go or help arrives, and having staff notify police or a women's shelter.
As a woman who's had to duck into places after being stalked and fearing for my safety so many times, I'm grateful for Harken Coffee's initiative and the excellent example they're setting for other businesses. It's terrible that something like this is even necessary, but since it is, it's reassuring to know that there are safe places we can turn to for help. I'd never heard of them before, but the next time I'm in town, I'll definitely be buying my latte from Harken – and I'm sure the hundreds of women who praised them in their post will, too.
And as a marketer who believes that marketing and kindness should go together, and that good companies can promote themselves in a way that doesn't go against their values or break the bank, I've become a fan of Harken Coffee's public relations. I mean, I believe the founders did it out of a genuine desire to help and don't know if they have a PR strategy. Still, their initiative was a fantastic example of self-promotion through kindness that every entrepreneur should take note of and apply to their own business whenever possible.
Why their initiative is brilliant PR
In public relations, newsjacking is when a brand uses current events or news stories for self-promotion. That's what the meditation app Calm did on Election Day in the U.S., for example. When everyone was stressed, they offered a free sample of their product and tweeted this:
Last week, a video of a woman being followed by a stranger went viral and everyone is talking about how these scary situations are becoming more common in Metro Vancouver. People are angry, women are speaking louder and louder about the harassment they face, and the media is reporting new cases every day. So this was the perfect moment for Harken Coffee's offer to be a haven for women and achieve wonderful results:
Lots of positive media coverage
Google "Harken Coffee Vancouver" and you'll see!

Becoming known
Many people who didn't know Harken Coffee existed now do, and for a noble reason. In a big city where there's a coffee shop on every corner, they've found a way to stand out from the crowd and give potential customers an extra reason to visit: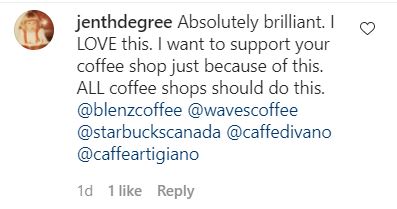 Effective branding
They're a plant-based, ethical coffee shop. Helping others is directly related to their goal of positively impacting the world.

Making loyal customers even more loyal
Not only will their customers appreciate the coffee, but they'll also be proud to support such a kind and helpful business.

Getting tons of new followers and social media engagement
Their Instagram post about this initiative has received more than 3,000 likes and 200 comments to date, mostly from women thanking them and tagging others. Their previous posts averaged about 160 likes and fewer than 10 comments.
Increasing employee satisfaction
Several studies have shown that job satisfaction increases when employees feel they're doing something meaningful and helping others. In this case, they can be sure that they're working for a company that doesn't only care about profit.
And of course, feeling good for doing good!
The founders had the opportunity to act according to their values and beliefs—is there anything better than that?

How to promote your business with newsjacking
It's common for entrepreneurs to think that their small business isn't interesting enough to draw attention from the media and the audience. They often have a hard time relating their product or service to current events like Harken Coffee did. If that's your case, I have three tips for you:
Pay attention to what's going on in your city and your community: Follow local news, engage in social media, chat with your customers. Keeping up with what's happening around you is the first step to getting inspired, finding ways to be helpful, and taking advantage of opportunities.


Be creative and open-minded
What does a coffee shop have to do with stalking and female harassment? What does a meditation app have to do with the presidential election? At first glance, these situations and products/services seem unrelated, but their founders and marketers were open-minded and creative in understanding current events and figuring out how their business could help solve a problem.


Be sincere
Don't force it, don't fake it – only engage in situations that align with your values and where you truly want to be helpful. People quickly notice when a company acts opportunistically and pretends to be committed to something in order to attract media attention. In such cases, the initiative backfires. For example, if Harken Coffee was known for mistreating its customers and forcing female servers to wear sex outfits, their offer to be a haven for women would come across as fake, they'd get called out on social media, and perhaps even cancelled.
And a final—and vital—piece of advice:
Before you go public with your newsjacking strategy, discuss it with other people you trust, such as staff, partners, friends, or others who can give you honest feedback. Sometimes we get so excited about an idea that we don't think about what could go wrong. The more minds that evaluate your plan, the more likely you are to succeed.
Other posts about small businesses marketing:
How to use Facebook groups to create word-of-mouth marketing for local businesses